Guldbolaget – the story
A genuine craftsmanship and a burning passion for the production of the unique and personal has been the driving force for two generations of goldsmiths. Here is the story that began in the mid 60's!
Text Carina Lundin Photo Mattias Johansson
It's New Year's 88–89. At a restroom, in the village of Småland, two boys in their 20s are making plans for the future. Five months later, in May 1989, Guldbolaget in Bergkvara AB started in a basement of a former furniture store.
The year is 1965 and Bengt Hellerstedt and Per-Olof Rejneborg meet at a party at the military camp F13 in Norrköping. Bengt is a goldsmith master and has just sold his jewelry shop in Finspång.
Per-Olof has just ended his service as a field pilot at F13 due to a serious skiing accident some time earlier that resulted in a long recovery, ground service, and a diagnosis that he would never be able to return as a field pilot. Both Bengt and Per-Olof have just started families. Both are at the crossroads of life. It's "green-wave time" and they decide to move to the countryside with their families and start a business together.
Bengt's goldsmith knowledge makes the choice easy and they decide to start a company in the goldsmith industry. They see an advertisement that Torsås municipality, in southeastern Småland, is selling an old school with teacher housing in the middle of the countryside. Both think that it sounds like a perfect place to settle down with their families and be able to run a company in the same building. In 1967, lorry-loads of furniture go to the small village Torestorp, which basically only consists of farmers. The old school is quickly transformed into a goldsmith's workshop and the teachers' quarters become housing for both families.
"Each ring is unique and is only manufactured when a specific order has been placed."
During these first years, it is mainly engagement rings that are manufactured, entirely by hand. After a somewhat cautious start, the rumor spreads about the two goldsmiths in south-eastern Småland and they are suddenly busy making rings as soon as the orders arrive. After a couple of years, they dare to invest in their first lathe and a what's called a faceting machine, which makes patterns on a smooth ring. During these years, fashion evolves from smooth rings to faceted and another faceting machine is purchased.
In the early 70s, a person is employed in the company Bergkvara Guld, which is now on the rise. They are looking for new customers with an interest in wedding rings and it is also around these years that diamond handling is gaining momentum. The company is booming throughout the decade.
In the early 80's, several different events occur that adversely affect the company. A couple of brutal robberies result in almost all the gold and diamonds being stolen. Bengt also has a serious accident and a downward spiral begins and the company never recovers from it.
During these tough, early years in the 80's, another person in the family made an entry into the company. Per-Olof's son Patrik Rejneborg, who throughout his upbringing lives alongside the goldsmith's craft, starts working full time in the company immediately after primary school. He is trained in goldsmithing by Bengt Hellerstedt and he becomes a key part of the company. When Patrik obtains a driving license, it is he who gets the task of delivering the rings to the jewelry stores.
In 1988, Bengt Hellerstedt dies and the company ceases upon his death. During the following period, Patrik leaves to pursue further studies.
"The staff, with their specific knowhow, is one of the most important assets in the company."
Back to that restroom, New Year's 88–89: One of the guys sitting there making plans is Patrik Rejneborg. Together with his friend Lars Helgesson, who has also been interested in the gold industry, they decide there and then, to start a gold company with ring manufacturing! It will be the beginning of Guldbolaget in Bergkvara. And it was a real great start. In the same year, the law changes regarding the widow's pension and Sweden breaks the wedding record this year. For Guldbolaget, this means a flying start with the production of wedding rings.
Present time: A lot has happened since that New Year's 88–89. In the early 2000s, Helgesson and Rejneborg go their separate ways and Patrik is the one who takes over the company. At this point, Patrik and his childhood sweetheart Charlotta, have had time to both get married and start a family and they now decide to run Guldbolaget together, as a family business.
Today, their three children, Hugo, Filippa and Beata, are on their way to adulthood. Throughout their upbringing, Guldbolaget has been central to their lives.
The basement area in the former furniture store has been expanded to include the entire three stories. Modern technology and design are combined with genuine craftsmanship.
Today, about 20 people work at Guldbolaget making rings for hundreds of retailers in Sweden and Norway.
The staff, with their specific knowhow, is one of the most important assets in the company.
For Charlotta and Patrik, it is their passion for manufacturing and the excitement of the business itself that drives them to constantly develop and improve the company.
Each ring produced by Guldbolaget is unique and is only manufactured when a specific order has been placed.
Guldbolaget in Bergkvara, is foremost a family company, and is Sweden's largest familyowned manufacturer of gold jewelry.
For the Rejneborg family, the line between private and business is fine. Life, family and business have, over the years, been woven together into a lifestyle.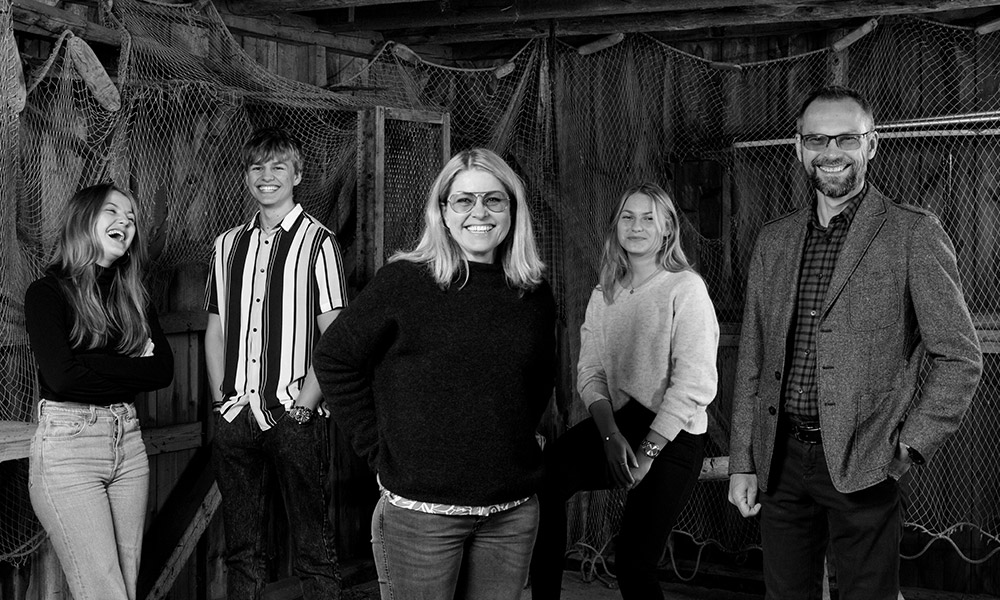 The Rejneborg family, from left: Filippa, Hugo, Charlotta, Beata and Patrik.